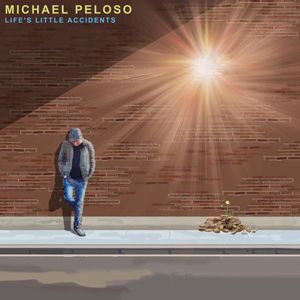 Produced by Michael Peloso & Matthew Shell
The Story Behind The Songs
Nite Run (feat. Nelly's Echo)  To me the song represents chasing one's dream. Letting the world know that you're coming to capture it & nothing is going to stop you. It's your time to shine & that time is now. Why shouldn't it be you?
Maybe Someday (feat. Marisa Frantz) is about loss. Loss of a loved one, of a relationship, of oneself. Yet it's also about hope. Hope that one day you will find some sort of normalcy. It may not be the same as it once was, but you can find your way again.
Make a Wish (feat. Vicu) is your typical boy meets girl love story. Boy is wildly in love & sees his whole future in front of him. The girl has been hurt many times & is hesitant. He's trying to prove to her that he will be there forever. That she's the one. Because of her past it will take some convincing, but the girl likes him too. She's just playing hard to get.
Falling Up (feat. Art Auré) is based off the book "Falling Upward" by Richard Rohr. I was reading this book during a very low period in my life. We all go through struggles & may hit rock bottom more than once. Through these lessons we actually are falling in an upwards direction. Learning from these hardships, becoming a better person & reaching the highest of highs. The book is highly inspirational & influential. I suggest reading it.
Life's Little Accident's (feat. Erik Fredriksen) deals with the mystery of life. How we are connected together. The kinship of all living things. How life is no accident. We are meant to be here. There are so many things we can't understand & maybe we shouldn't understand. Stop & really think about it for a second. It may make the world a better place.
Rear View (feat. Natalie Jean):  When we're in a difficult situation whether it's an illness or bad relationship,  sometimes we can't see ourselves ever getting past it. This is the first of two songs that was written about my cancer diagnosis in 2017. How will I survive? How am I going to make it? Am I strong enough? These were all questions I asked myself. I wasn't sure if I would make it. Now I look back & I did. We all can overcome hardships in life. Sometimes we surprise ourselves. We can't see it while we are in that moment. Then one day we look back & we made it through. We are no longer that person. We are better for going through it. We are no longer living in that moment. We are only looking ahead. It's now in the rear view.
No You, No Me (feat. Erik Fredriksen & Juliet Lyons) Have you ever had someone in your life who helped you greatly during the toughest of times? Then one day they are longer in your there? For whatever reason they just aren't, yet they made such a positive impact & were so helpful that all you want to do is thank them for being so selfless. It's as if they were meant to be there for just that moment. You could never repay them.
Shed My Skin (feat. Juliet Lyons) is the second song that deals with my cancer and epilepsy battle. I was very sick with Stage 4 colon cancer. It was a major challenge that I faced & I was determined to beat it. I gave myself no other alternative. The health battle was eating me up inside. I didn't feel well. It was a difficult time. It wasn't easy. I wasn't easy to be around at times. I just wanted to shed myself of all of the sickness & toxicity & just get back to living & seeing all the great things in life. Getting back to the person I was & enjoy all the joys of being alive.
What You Do (feat. Nathan Nasby) is a feel good tale of boy loves girl. All that matters is this woman. He can't live without her because he loves her more than anything & he can't stop telling her or the world.
Fly Away (feat. Marisa Frantz) deals with the sad ending of a relationship. Hurt deeply from the cut of losing someone you've been with for a long time. Things are said about you that aren't true. Some people care or pretend to care, while others you thought would have been there just weren't. They form their own opinions or listen to only one side & don't take everything into account. You just can't control what others will think & say. You have to remain true to yourself & the  truth. There are many factors at play. Things that are visible & some that just aren't. There's an explanation for everything. Some people choose to see that while others will not. That's out of your control.  Some people in your life just didn't care or never really cared. It happens. You have no choice so you pick up the pieces, fly away from it all & just start again.